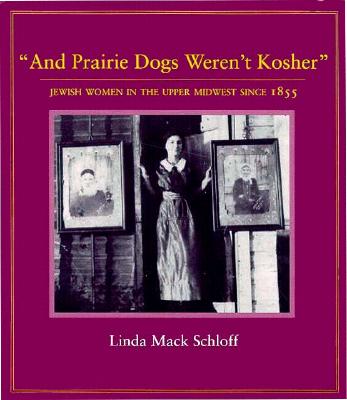 Author Linda Mack Schloff
Title "And Prairie Dogs Weren't Kosher" Jewish Women in the Upper Midwest Since 1855
Binding paperback
Book Details 256 pages, 85 illustrations, 4 maps, 7 3/4 x 9, paperback, Minnesota Historical Society Press / Borealis Books Imprint
Publisher Minnesota Historical Society Press / Borealis Books Imprint
ISBN Number 0-87351-338-X / 9780873513388
Illustrator Reg. Price: $14.95
Seller ID 51338X
Linking the personal and the historical, Schloff integrates oral accounts, diaries, letters, and autobiographies with original research and interpretation to shed vital new light on the Jewish experience in America's heartland. The book uses the voices of four generations of Jewish women who settled in Minnesota, the Dakotas, Iowa, and Wisconsin to show how they transported and transformed their cultural and religious life in a region inhabited by few Jews. As the wives of fur traders and homesteaders, storekeepers and professionals, they were the key link in creating Jewish homes and helping their families fit in-often under harsh conditions. But in the process of becoming Jewish Americans, they also carved out new roles for themselves as jobholders, synagogue-builders, and social activists. Chapters focus on Jewish life in the Old Country, immigration and settlement, the challenges of keeping kosher in the new land, work, synagogues, and women's organizations. Each opens with a brief, lucid essay introducing the personal accounts-more than 120 in all-which Schloff drew from a range of previously untapped archives as well as from her own interviews and investigations in Jewish communities throughout the region. Some 85 period photographs vividly accent the text.
About Author
Historian Linda Mack Schloff is director of the Jewish Historical Society of the Upper Midwest, St. Paul.
Reviews
"Begins to fill a void in American Jewish history and admirably expands our access to the religious, cultural, and social lives of women in the middle of America and their contributions to the larger community."--Nebraska History
More Description
This book has its origins in an exhibition, Unpacking on the Prairie: Jewish Women in the Upper Midw...
Price = 14.95 USD